Description
3V TECHNOLOGY can support to customized MPO-LC/SC/FC/ST connecter patch cable which refers to the end of the fiber sector MPO single head 8cores,12cores or 24cores connector, and the other end is using the LC/SC/FC/ST connector. The products are mainly used in the pre terminal module box, connecting terminal jumper pre trunk optical cable and equipment, to achieve modular, plug and play, compared with the traditional welding, which greatly improves the convenience and efficiency of work.
Product features:
1, the MPO connector with the guide pin through the MPO port of the module box and the backbone optical cable butt joint, the other end of the LC,FC or SC connector through the module box LC panel,FC panel or SC panel and the equipment of the jumper.
2, Custom jumper length can be matched with the module box, easy to disk.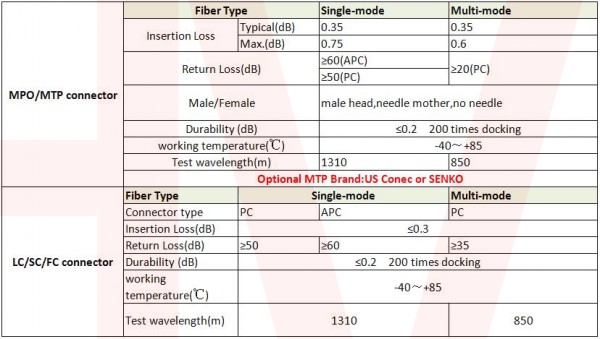 Ordering P/N:
1,3V-MPO-A-B-C-D-E-F-G-H-I-J-K
2,3V-MTP-A-B-C-D-E-F-G-H-I-J-K